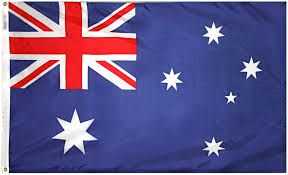 Heritage Livestock Canada is letting our Australian friends & partners know we still think of you every day. Yvonne Hatch & Sue Curliss have sent some photo's for us to better appreciate what they have been enduring. Thanking a recent contingent of Canadian FireFighters who must have taken some rain along with them! Let's hope it marks a turning point.
Hi Pam,
Thank you for thinking of us and you would never be "bothering" us! We are fine and the major fires are on the other side of Victoria to us, in East Gippsland. We have a few small ones around us but they get onto them very quickly and have had them under control within a few hours. We have had rain over the firegrounds which has helped a great deal in both Victoria and South Australia (Kangaroo Island) as well as New South Wales.
New South Wales has been the hardest hit and there are still 38 bushfires burning with 20 still out of control. Another contingent of fire fighters from your home country, Canada, arrived today to help out. The assistance from the rest of the world has been amazing and is so appreciated. The devastation to the land, wildlife and livestock has been unimaginable and is ongoing. Lives have also been lost. It is going to be a long time before any kind of restoration has taken place, especially for the towns that were practically obliterated. People are still living in tents, caravans and shelters, waiting for money to come through.
There has been some fantastic help for livestock......the Burrumbuttock Hay runners (you can check them out on FB) had over 170 semitrailer trucks go in convoy for Australia Day to deliver feed to those affected by both the fires and drought. It was a sight to see. The worst of events certainly brings out the best in people and the Aussie spirit is strong. The people and the land will come back, but it will take some time and unless our Government start looking at the challenge of climate change, I fear this could be an annual event. :(
Hope all is well with you and your family, both two and four-legged.
Thank you again for thinking of us,
Cheers,
Sue xx
Feb.8.2020
Response to email from Pam at Heritage Livestock Canada
Hello there Pam,
How kind of you to get in touch.    Let me reassure you, all is well, we actually are supposed to be having torrential downpours, but as yet the message from the Bureau of Meteorology hasn't reached the clouds.    We have had some rain, about 20mm in the last eight days,  and it is truly amazing to see the faint tinges of green emerging on our poor (very poor) lawn.   
In the paddocks Bev tells me green pick is coming through, particularly on the track he mowed through the desiccated long yellow grass in one of the paddocks on a non-High Fire Danger day.  Reason for the track? All the better to see any snakes, wide awake in the heat and searching for water. 
Further north, they really do have the flooding rains.   Friends on the, Northern Tablelands of NSW, were facing the grimmest conditions of the drought:  dying gum trees, a dry river - which is their water source.    They were relying on bore water, not good.    They have had an enormous amount of rain over the last week to ten days.   The river when it started to run, actually ran so full it broke its banks.   Just in the last four days they have 62mm and are forecast another 105mm this week. Grass is almost leaping out of the ground: ironic since they had to finally de-stock some months back due to the drought.
Even further north in South East Queensland, the Blue Gum Suffolk Horses are safe and well. Lots of rain there too, and the green pick is racing out of the ground.
Closer to home the Morton Fire - about one hour cross country as the crow flies - is due to have torrential rain over the next two-three days.   Fingers crossed.   It will reduce the fire, but of course where the fire is burning in the wood heart, or down in the deep roots  of the big trees, it can cause it all to re-ignite in the weeks to come.   What the rain does mean is a respite for the more than weary firefighters who have been battling the fires for weeks, some for months, and always on high alert, even when they are relieved for a few days' rest.
It is our little Country Show today, but sadly few exhibitors showing their stock because of lack of condition due to the drought.   It is a chilly sort of day, temperature about 17C, but the feels like factor is 15C, intermittent showers, wind from the east in gusts.    That probably doesn't sound too cold to Canadians but we have two wood stoves going (each in different rooms).   It's a big drop from when we were sweltering at the 40C mark just a few days ago.
Australians have been so touched by the kindheartedness of people overseas, and by Canada particularly. I was going to say 'the kindness of strangers' but read only today that Canadian and Australian firefighters have fought fires together in British Columbia in 2017 and 2018.  So it feels like old friends and neighbours, who have come from all over Canada for the past months. More firefighters arrived from Canada today, twenty in all, with ten going to Victoria and ten to stay here in NSW.   
If we ever needed reminding of the innate goodness and kindness of others, then it is with the incoming firefighters from Canada, UK, NZ, America, France, Denmark….  all volunteers. The phrase "Thank You" seems woefully inadequate somehow.
So thank you again Pam for taking the time to get in touch.    It is very, very much appreciated.
Yvonne.
ps. 1. Looking across our neighbour's fence line towards our little town during the day
2. Not sun set, but early morning around 6.15am.
3. Truck and trailer loaded with water tanks, pump, hoses for fighting spot fires caused by ember attack or lightning strikes.  I think this was taken when the wind changed and we had about an hour free of smoke haze
4. The mown track across the paddock.  Normally we can see through the tree line up through another paddock.
5. Another morning shot with the weird sun.
We lived with the smoke haze since early December until about a fortnight ago.   It really was that dirty grey brown colour, varying in intensity depending on the wind direction.    The smell permeated everything, including inside the house.  At night we would wake from sleep when the smell intensified, due to the wind change.
6.  I think that was what was so exhausting - the constant anxiety and fear of ember attack when the wind got up, or worse, people ignoring High Fire Danger ratings.  One big worry for us was that because we were understocked, and because we thought we might be able to make hay (and then as the growth stopped and hayed off), we had lots of forage.   Despite the drought we were having to cell gaze our (grading up) horses - they have the Suffolk gene of 'good doers'.    We had a lot of long dried grass in our garden - couldn't mow because the risk of metal hitting rock and sparks starting a grass fire.    Our elderly remaining goat, all eight geriatrics, were overjoyed to be given the run of the hitherto forbidden area.   They did a lot of pruning of the lower limbs of trees, the shrubs and of course my roses, but they certainly reduced the fire risk.  Photo shows a couple of them on their first foray out from the paddock, assessing the bounty on offer before heads down to serious munching.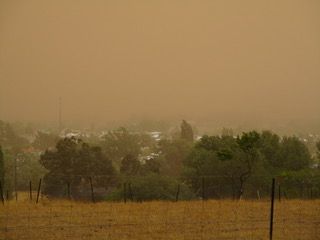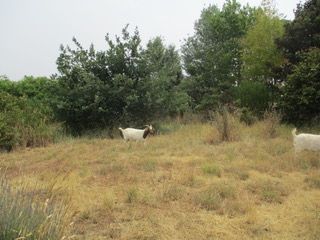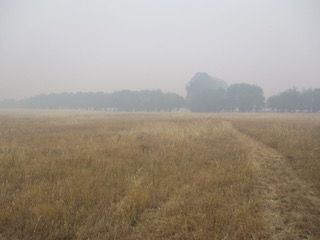 Canadian Fire Fighters